How to get here
The address in Italian (if you need to give it to a bus or taxi driver) is: Università di Firenze, Dipartimento di Ingegneria Industriale - Via di S. Marta, 3 - 50139 Firenze.
In order to arrive by bus from the main train station ("Santa Maria Novella"), take the bus number 4. 
Tickets are not sold on baord and so you have to buy them in advance, at a small kiosk (selling also newspapers, cigarettes, etc.) inside the station. There's only one type of ticket for trips within the town (called "Tratta Urbana").
The bust stop is just outside the station, on the other side of the road. The bus direction is "Cappuccini" or "Massaia". Get off at the bust stop "Massaia", after a journey that will approximately take 25 minutes. When you will get off the bus, you will see the following main gate of the School of Engineering:

Federico Carpi's office is located on the 1st floor of the left-hand wing of the building. Enter the building from the door indicated below: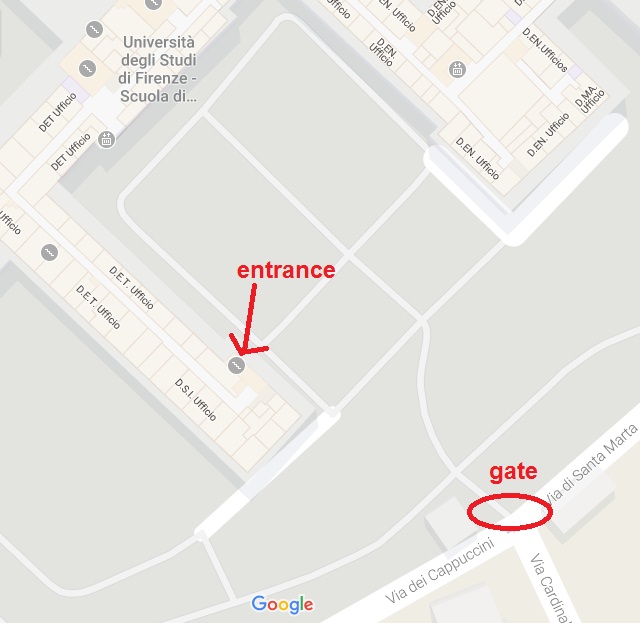 You will find stairs that will take you to the 1st floor. Once there, enter the door (pushing the button next to it) and follow the corridor. After a few meters you will find Federico Carpi's office on the left-hand side.
In case of need, the relevant phone numbers are available on the page 'Contacts'.
If you can't use your mobile phone, enter the small reception building at the main gate and ask them to call Federico Carpi on the numbers available on the page 'Contacts'.
                                               ________________________________________
ultimo aggiornamento: 11-Mag-2017