Compressed Air Energy Storage - Videos
Da circa 3 anni il gruppo SERG svolge ricerca su di un sistema di accumulo di energia elettrica e termica ad aria compressa per uso individuale abitativo, sviluppato in collaborazione con La Fabbrica del Sole SCRL di Arezzo (FDS) e cofinanziato da Regione Toscana (POR CREO 2012).
Within the SERG group a research project started in 2012 (CAES-2kW) for the compressed-air storage of electricity and heat for individual dwellings. The project is run in cooperation with La Fabbrica del Sole SCRL (FDS) and was co-financed by Regione Toscana (POR CREO 2012).

Il sistema è destinato ad integrare l'accumulo elettrico con batterie per le utenze Off Grid, e prevede l'allestimento in una particolare OffGridBox commercializzata da FDS.
Il compressore è derivato da una macchina commerciale COLTRI per subacquea, modificata con scambiatori interstadio a recupero a liquido (acqua). L'espansore è un'innovativa macchina rotativa QuasiTurbine.
The system is designed to support battery storage with specific reference to Off-Grid applications; it is assembled in an OffGridBox package distributed by FDS.
The compressor is a commercial COLTRI unit for SCUBA diving, modified with regenerative water interstage cooling. The expander is an innovative QuasiTurbine unit.
L'attività si è concretizzata in studi di dimensionamento preliminare, simulazioni a breve e lungo termine delle prestazioni, analisi di ciclo di vita e messa in servizio e campagna di misura sul prototipo; sono state svolte diverse tesi di laurea e tirocini presso FDS, e realizzate diverse pubblicazioni.
The activities range from preliminary sizing to short- and long-term simulations, Life Cycle Analysis, acceptance tests and measurement campaigns. They involve thesis projects and placement trainings of studenst at FDS, and have led to several publications.
Recentemente una pubblicazione - poi edita in versione estesa sulla rivista International Journal of Thermodynamics - ha ricevuto uno dei tre premi per i migliori articoli scientifici presentati alla conferenza ECOS 2014 (su oltre 300 lavori).
One publication - published in the following by the International Journal of Thermodynamics - received one of the three prizes as best paper at the international Conference ECOS 2014: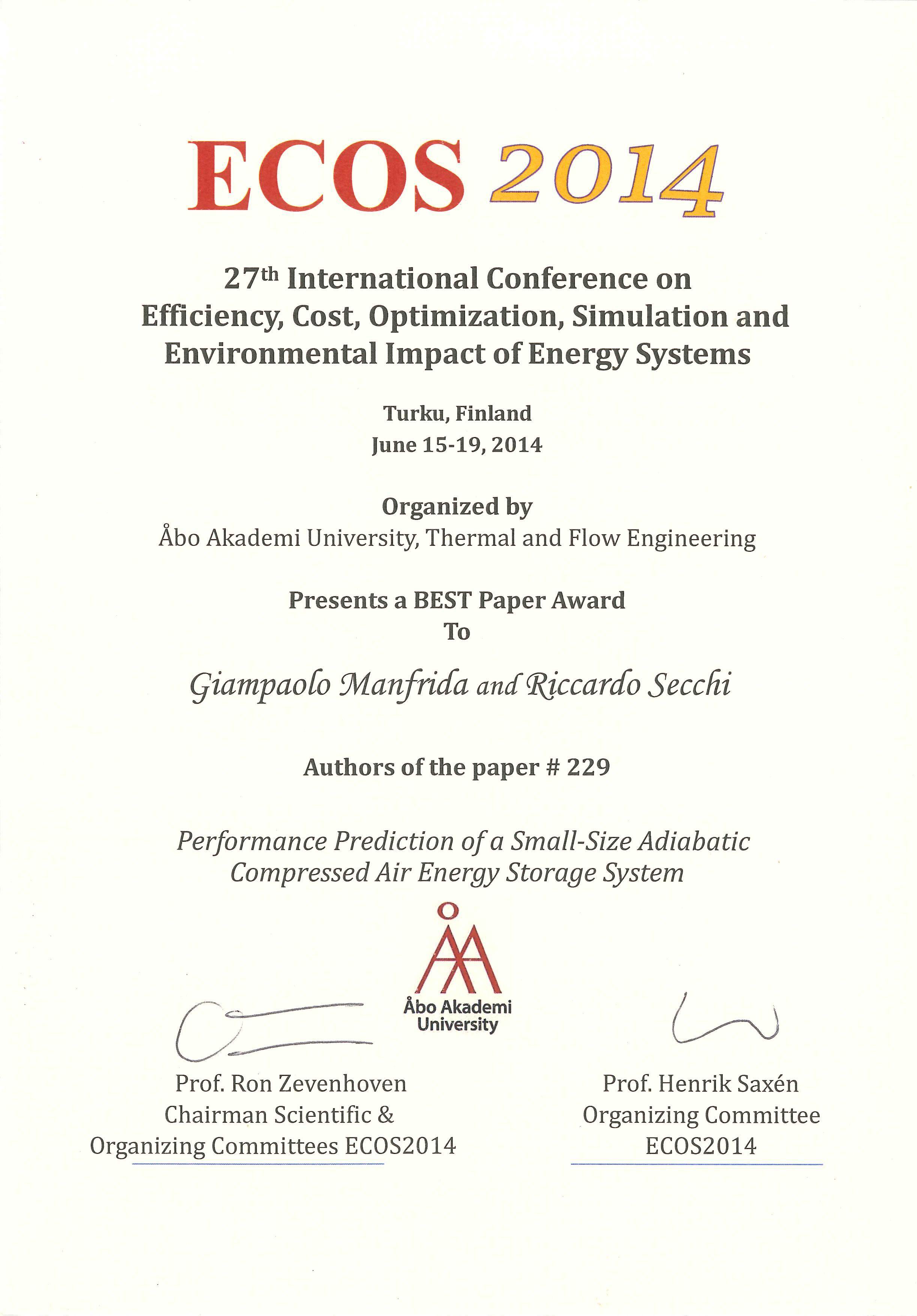 Alcuni documenti/Further documents/videos:
Presentazione Tesi Giulia Del Santo IART Sett2015 - LCA CAES 2kW
CAES Offgrid- Video operating in storage mode (compressor): https://youtu.be/zMUKDXXa6nQ
CAES Offgrid- Video operating in production mode (QuasiTurbine): https://youtu.be/rf10F9VXs80

ultimo aggiornamento: 04-Apr-2016